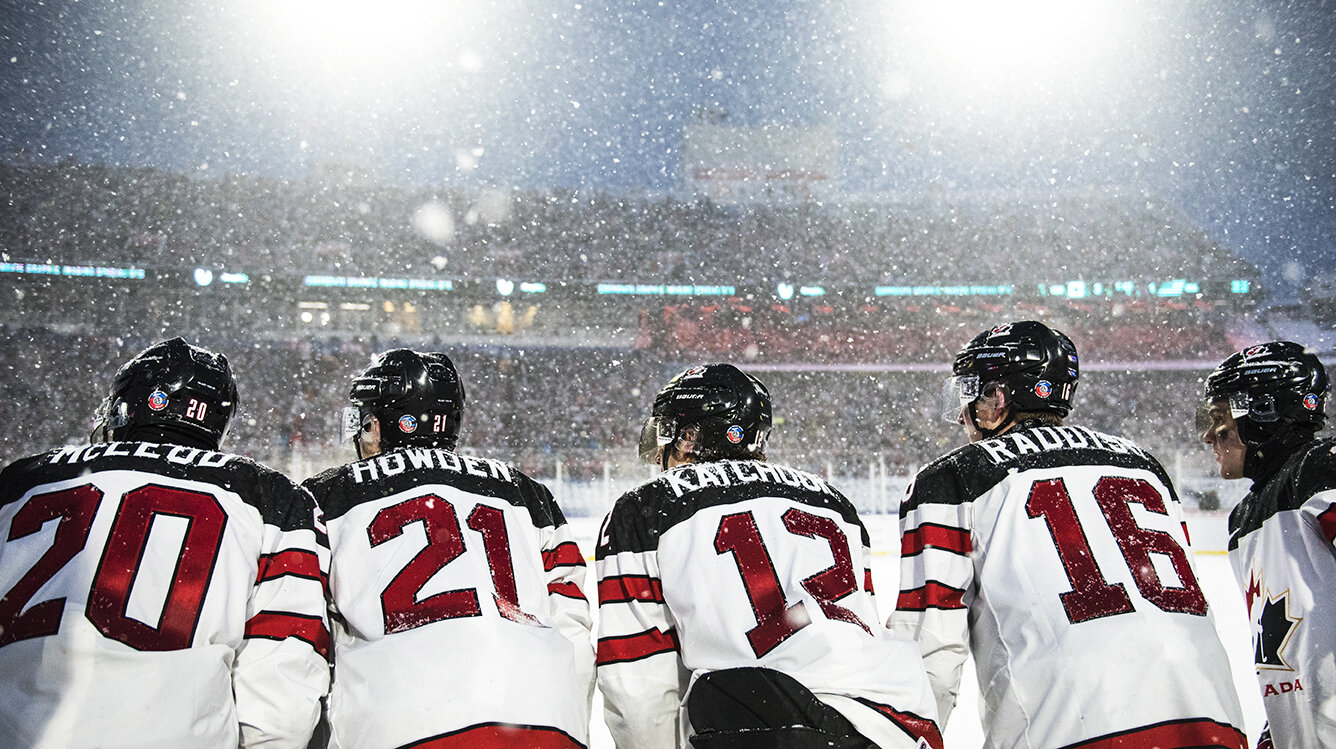 Team Canada's (L-R) Michael McLeod, Brett Howden, Boris Katchouk, Taylor Raddysh and Robert Thomas watch from the bench
during the 2018 World Junior Championship's outdoor game against the United States.
Daria Kasatkina serves amid the shadow of the court lighting
at the Aviva Centre during the 2019 Rogers Cup in Toronto,
Ont. on Aug. 7.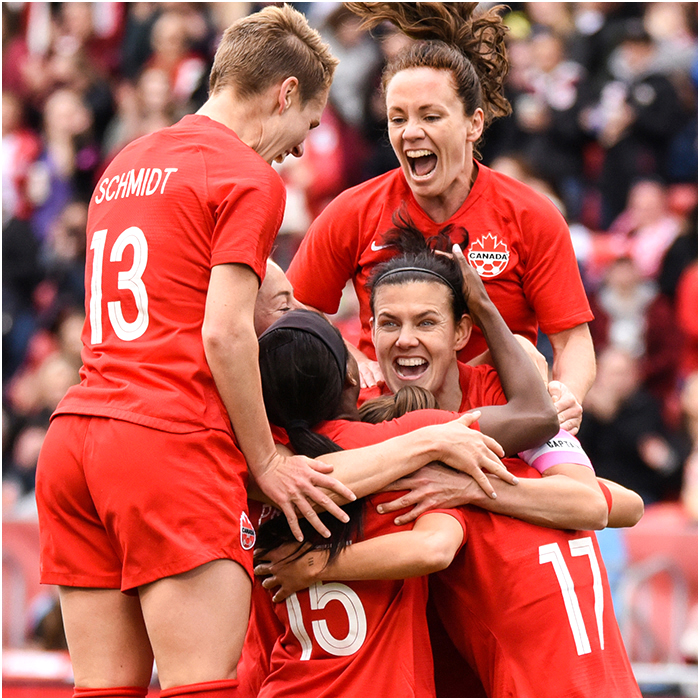 Team Canada forward Christine Sinclair celebrates after scoring a goal
against Mexico during a friendly at BMO Field in Toronto, Ont.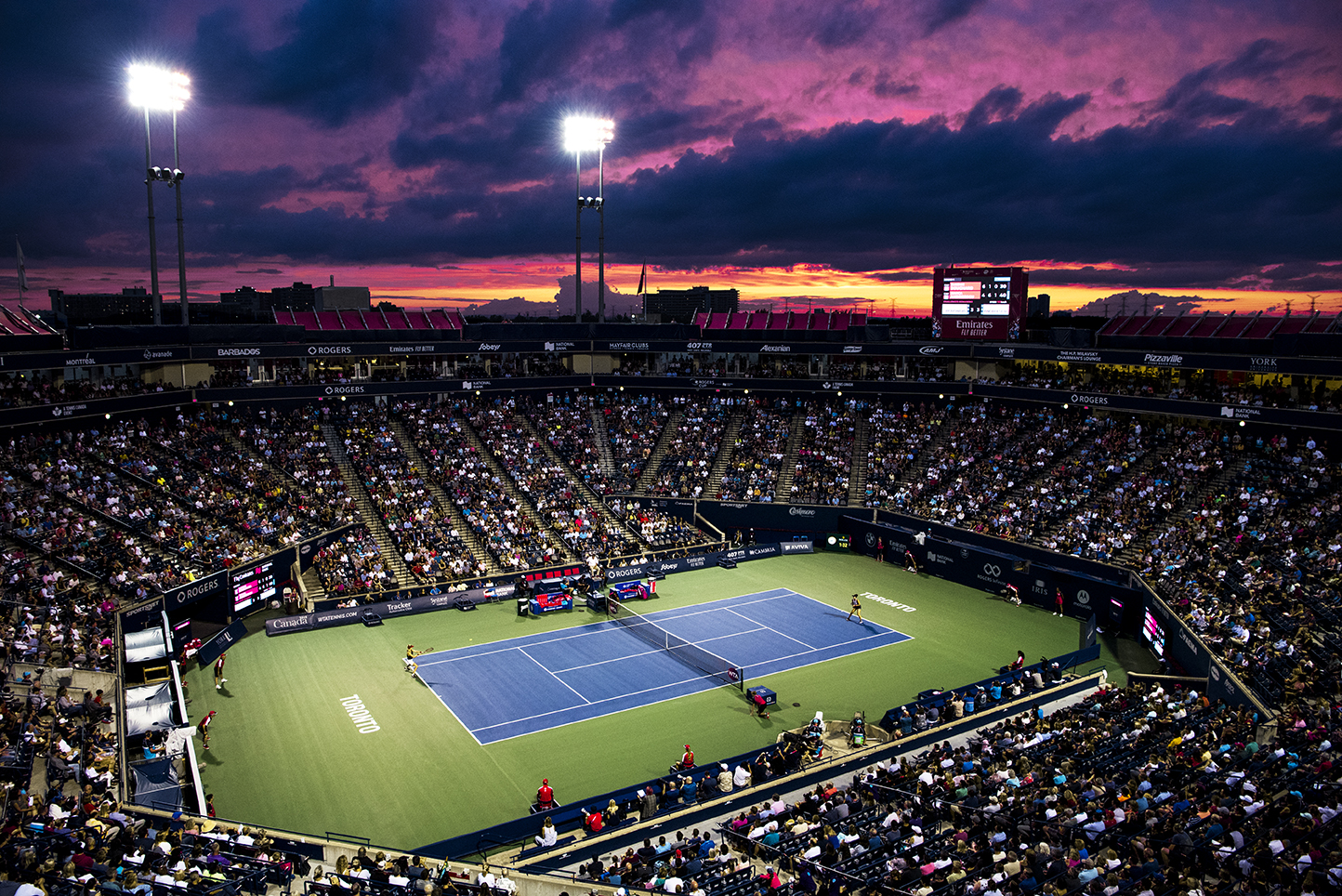 View of the Aviva Centre during the second day of the Rogers Cup in Toronto, Ont.
John Mayer performs at Toronto's Budweiser Stage on August 29.
A couple walks alongside a large build up of ice at the shore of Mather Park in Fort Erie, Ont.
American pole vaulter Carolina Carmichael clears the bar outside of Toronto City Hall, while competing in Athletics Canada's
Track & Field Takeover at Nathan Phillips Square in Toronto, Ont.
Prime Minister Justin Trudeau stands in front of a Canadian flag during a town hall at Brock University in
St. Catharines, Ont.
Russian goaltender Vladislav Sukhachyov sprays water from his mouth during a stoppage in play at the
2018 IIHF World Junior Championship in Buffalo, NY.
A participant in the 5K Foam Fest, an obstacle course-based fun run, submerges himself underneath a layer
of foam in St. Catharines, Ont.
Bianca Andreescu kisses the Rogers Cup winner's trophy after her win
against Serena Williams on Sunday, Aug. 11, 2019. Andreescu is the
first Canadian to win the tournament in 50 years.
Oscar-winner and Thirty Seconds to Mars frontman, Jared Leto, is seen in silhouette during the band's June 6 performance
in Toronto, Ont.